Kriss Créol · 25/10/2014 ·
It's been 7 months since Zach Galifianakis interviewed the president on his intentionally awkward internet talk show Between Two Ferns, and now he's back to interviewing "dumb actors" while you laugh from a cringing position. First up: Bradley Pits with guest appearance by Louis C.K., doing some of the best-worst standup of his career.
Kriss Créol · 25/10/2014 ·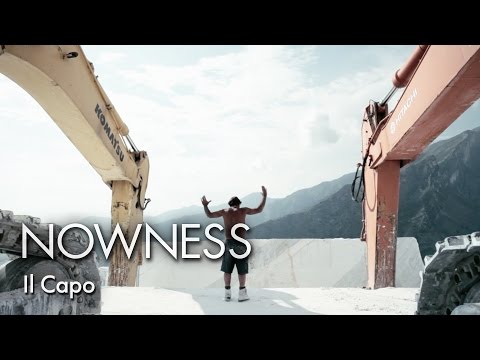 This is pretty awesome to watch. Italian artist and filmmaker Yuri Ancarani captures the otherworldly landscape of a marble quarry in the Apuan Alps, Northwest Italy, as Il Capo (The Chief) guides his men through the extraction process.
Read the full feature on NOWNESS.
Kriss Créol · 22/10/2014 ·
Check out these stamps, a celebration of the 'GOLDEN ERA' 1980s – 1990s in Hip-Hop.
"most of my heroes don't appear on no stamp?" - Chuck D
A stamp is a distinctive mark or impression made upon something. The 'GOLDEN ERA' design honours the kings and queens of hip-hop who propelled the genre from humble beginnings in the block parties in New York to the global phenomenon we see today. So if you thought 'most of my heroes don't appear on no stamps' a few words of advice 'Don't believe the hype'.
More after the jump! – Visit the Madina shop 

Mads Emil · 21/10/2014 ·
With their latest Air Force 1 High collection just around the corner – Supreme have also revealed the first look at their upcoming Nike SB GTS design.
Looking good.
Mads Emil · 20/10/2014 ·
The beast!
Lebron James celebrates his return to Cleveland in the latest Beats by Dre campaign titled "RE-ESTABLISHED."
Enjoy.